Respite Breaks
Respite Short Breaks for individual children and adults with special needs.
Respite Short Breaks are offered on Saturdays during term time and additionally Tuesday to Saturday in the holidays. The Breaks are between 10 am and 3.30 pm. Friday Breaks are reserved for Adults only.
The Playground has a limited number of respite care places, available on a 1:1 or 2:1 basis, subject to satisfactory completion of a supervised induction period and an assesment of need to ensure all needs can be met by our trained and experienced staff.
For more information on the Respite Break scheme, please contact Gary Warrington, Playground Manager, on 01628 628599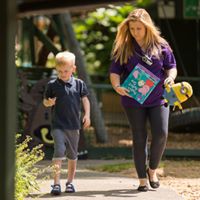 See this film to hear what everyone thinks of our services