Fun Club 15+
Booking is essential!
We meet either in the playground or on Zoom on Thursday Evenings but please contact the playground for full details and the date of our next meeting.
Who: Ages 15 and over
Email
office@tvap.co.uk

for information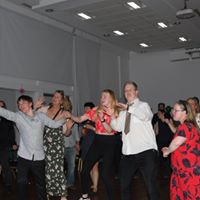 Join us for the fun!
A 'Fun Club' for adults with special needs to meet, socialise and enjoy themselves in a relaxed and safe environment. Join in the activities or just enjoy a chat! We are a friendly lot and would love to welcome anyone new to come and join the fun.
The Club is for everyone to enjoy and everyone helps to put together the weekly events list. From Bingo to Baseball, Crafts to Karaoke, Snakes & Ladders to Skittles, Pizza-making to Cake-decorating - we run all sorts of activities!
Fun Club is open to anyone aged 15 and over. Its free to join on Zoom but for face to face sessions we ask for a small contribution of £5 to cover the cost of refreshments (a little bit more for special occasions such as trips to the Pantomime and Fish & Chip Suppers).
For more information, to book or to get involved in running the club click on the button below: