Welcome To Thames Valley Adventure Playground!
Thames Valley Adventure Playground (TVAP) is a charity that offers a unique range of adventurous, therapeutic and educational play activities in a safe, caring and stimulating environment, catering for both children and adults with all types of disability, however mild or profound. We offer opportunities and vital Respite breaks that support the families and carers as well as the special person they care for.
Hello and welcome to the TVAP website!
On behalf of the Trustees and the team I thank you for looking at this site and for thinking of us!
We were very sad when it became clear that we would have to close the Playground, as we know that it is a lifeline for many people.
Like you, at the moment, all the TVAP team have to stay at home but as soon as it is practical and safe we will be back to supporting children and adults with special needs, their families, carers, schools, play schemes and care homes. It is our mission!
To all the TVAP community, we know how resilient you are on a daily basis but know this prolonged period at home, and without help, brings increased challenges - we send you strength, our admiration and as many ideas to keep you sane and occupied as possible via our social media!
Facebook: @thamesvalleyadventureplayground
Instagram: TVAP_charity
Twitter: @tvapSN
In the meantime, thank you for understanding that as a charity we need your support to get through this difficult time. Thank you for helping us weather this storm! Get in touch with Reama (reama@tvap.co.uk) if you can fund raise for us during this time or in the future.
Stay well and see you soon!
Alec Black
Chair of Trustees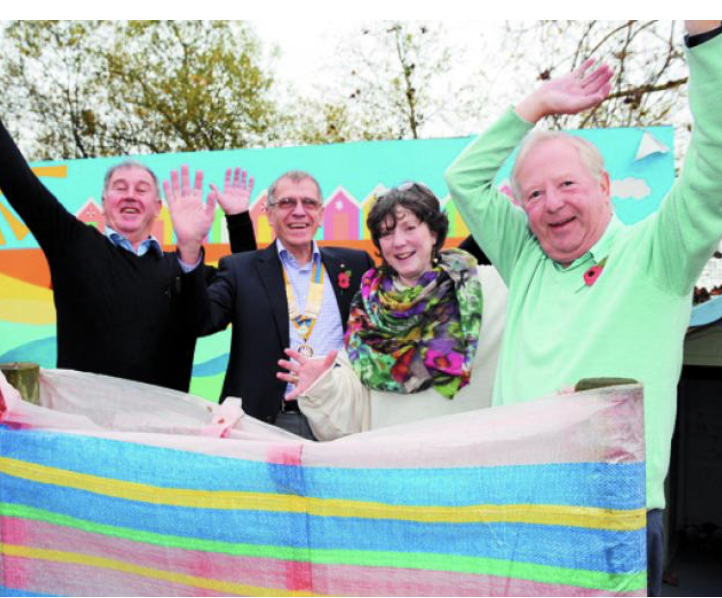 Our President Tim Brooke Taylor

All of us at TVAP, Trustees, staff and volunteers, are devastated that Tim Brooke Taylor has passed away. For over 25 years he has been our President, our team mate and our friend. His commitment and passion to help the thousands of children and adults with needs and their families and carers that benefit from our charity's work has been hugely helpful and truly wonderful.

Tim was such a lovely person - kind and funny, and incredibly supportive of the Playground, giving so generously not just of his time, but also in keeping us in his thoughts when it came to spotting fundraising opportunities. Always ready to don his Presidential hat compering quizzes, acting as auctioneer, even, on one occasion, auctioning himself (and Christine!) to host a dinner. From the time he first took on the presidency, he has been totally committed to the Playground. Whenever we asked, he was there, ready for anything and always fully engaged with whatever we needed him to do.

We will all miss the lovely man and the gentleman that we were proud to call our President. Our thoughts are with his family.

What's On